Series Description
Edit
Earth: Final Conflict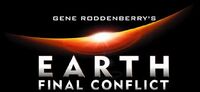 | | |
| --- | --- |
| Title: | Earth: Final Conflict |
| | |
| --- | --- |
| No. of Eps.: | 110 / 5 Season(s) |
In the 21st Century an alien race, who call themselves the Taelons came to Earth, claiming they come in peace. They were lying, their true agenda was to dominate the human race. Jonathan Doors puts together a Resistance to fight off the Tealons. After several years of struggle, they resistance was finally able to beat the Tealons, only to be left with a more aggressive species in their wake. This new species is called the Atavus.
Episode Guides
Edit
Ad blocker interference detected!
Wikia is a free-to-use site that makes money from advertising. We have a modified experience for viewers using ad blockers

Wikia is not accessible if you've made further modifications. Remove the custom ad blocker rule(s) and the page will load as expected.