Series Description
Edit
Star Trek: The Animated Series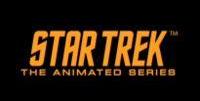 | | |
| --- | --- |
| Title: | Star Trek: The Animated Series |
| | |
| --- | --- |
| No. of Eps.: | 22 / 2 Season(s) |
Star Trek: The Animated Series, is set in the 23rd Century. The series takes place after Star Trek: The Original Series. Captain James T. Kirk continues the five-year mission, commanding the U.S.S. Enterprise NCC-1701. In Star Trek: The Animated Series, most of the cast returns to this series to relive the adventures. Some episodes of this series are sequels from the original series. This shows was canceled during its second season after airing 22 episodes. Kirk and his crew continues their voyages and make first contact with many new races and discover other civilizations and even come back to visit already known friends and enemies.
Basic Plot
Edit
That information is not available.
Main Cast
Edit
Ad blocker interference detected!
Wikia is a free-to-use site that makes money from advertising. We have a modified experience for viewers using ad blockers

Wikia is not accessible if you've made further modifications. Remove the custom ad blocker rule(s) and the page will load as expected.