Series Description
Edit
Star Trek: The Original Series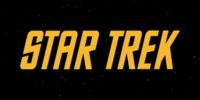 | | |
| --- | --- |
| Title: | Star Trek: The Original Series |
| | |
| --- | --- |
| No. of Eps.: | 80 / 3 Season(s) |
Star Trek: The Original Series is set in the 23rd Century. The series was original titled Star Trek, but received its new title after several other spin-offs were released on Television and in Theaters. The series takes place on the U.S.S. Enterprise NCC-1701 with Captain James T. Kirk in command of the ship. The Enterprise's five-year mission is to explore space, to seek out new life and strange civilizations and boldly go where no man has gone before. Star Trek: The Original Series was canceled after its third season, but the mission continued onto Star Trek: The Animated Series, then went on to do six (6 1\2) movies. This series also takes place after "The Cage", which is followed by the movie Star Trek (2009).
Basic Plot
Edit
That information is not available.
Episode Guides
Edit
Main Cast
Edit
Semi-Regulars
Edit
Ad blocker interference detected!
Wikia is a free-to-use site that makes money from advertising. We have a modified experience for viewers using ad blockers

Wikia is not accessible if you've made further modifications. Remove the custom ad blocker rule(s) and the page will load as expected.